Welcome to The Lazarette.
Nautical Rope Decor
Traditional Maritime Knots
Handmade In The Historic Port Of Falmouth
We love to tie knots into beautiful and useful items for your home or yacht.
Sailing lead to Knotting!
We have named our shop 'The Lazarette' after the name of the locker where we keep all our spare ropes in our wooden ketch. We have lived and sailed on classic boats for over three decades.
We sold our first knot over 30 years ago, a Turks head in exchange for £1 and a glass of sherry!
Today we create modern home decor from traditional sailors' knot.
We are members of the International Guild of Knot Tyers (IGKT).

Have a look at our Etsy shop for details and prices of all our nautical and rustic decor.
We thought this would be a great decoration for a country cottage.
We could imagine it as a great addition to a rustic Christmas.
It is useful as a table brush to clear away crumbs too!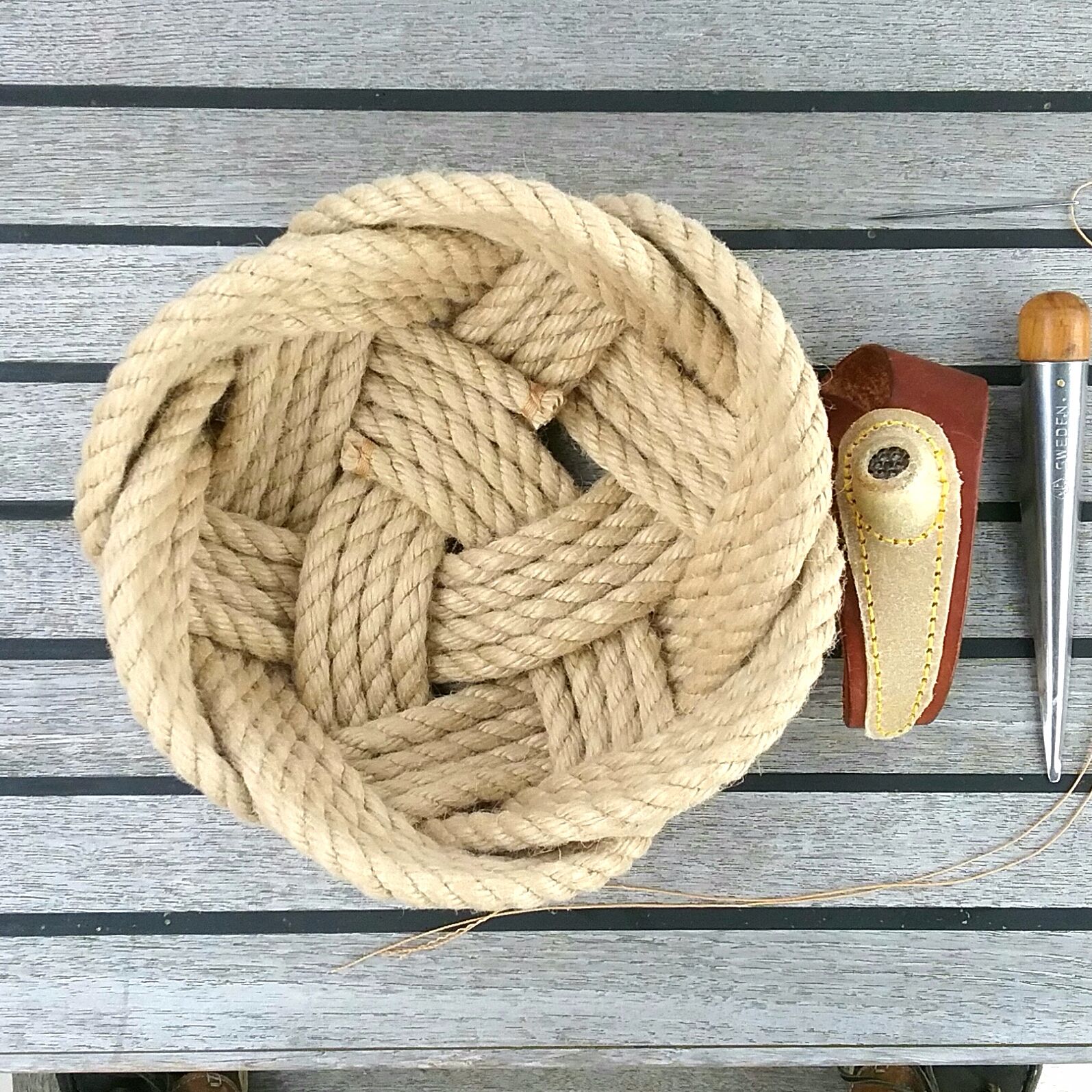 We created this rope basket from poly hemp. Then we sewed the turns together to keep it all shipshape!
We love this knot and we have named this basket the 'Carrick' after our local river entrance.
Tabitha Flower Girl Basket
This beautiful basket came from a lovely Bride-to-be's idea of creating a handle from a turks head knot bowl. She was so happy with the result, she bought two.
What Our Customers Say...

I needed 35 of the small Monkey's knot key rings for wedding gift bags. Janette and Paul from TheLazarette responded immediately on several occasions to my email questions. They rushed my special order so we would receive them in the states in time. The keychains were great looking, appreciated by our guests, and a special reminder of our son's nautical themed wedding. I WILL be ordering from The Lazarette again! J.W. North Carolina, USA
Exceptional customer service- I had a question that was answered straight away and I have just received the perfect curtain tiebacks along with a mini version as a gift. L.T. Orpington, UK
So over the moon with the rope towel rail. Exactly what I needed, excellent quality and arrived in no time at all. Would definitely recommend and will use again in the future. Thank you. J.W. Essex, UK
Received this item very quickly, it was exactly as described and great quality. Beautiful work! R. McK. Co. Louth, Ireland
As with a previous purchase the item is just as expected; well made and looks great. Very prompt delivery and excellent customer service, thank you. R.T. Cornwall, UK
Really lovely bowl! Exactly as described and great quality, plus really nicely packaged. I gave it to my father to use as a fruit bowl on his boat and he 's delighted with it. Thank you! K. J. Co Antrim, Northern Ireland
Beautiful rope basket. Very well made. C. McC. South Carolina, USA
I am so happy with this beautiful basket. Extremely well made, perdect size [my bananas are happy too!] the color of the rope is warm unlike other rope baskets that tend to be "white-ish". Great communication with seller & fast delivery. I highly recommend purchasing an item from these artists. L.S. Connecticut, USA
I love this leash for my 2 wiener dogs! It's adjustable! They also included a sweet note! It shipped very fast coming from the UK! Definitely will keep them in mind in the future! J.F. California, USA